Extenze - The Secrets This Massive Scam

Doesn't Want You To Know About!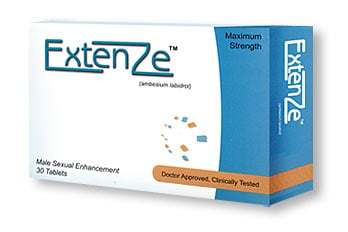 If you watch late night TV you have probably seen a half hour infomercial for the the product Extenze, and herbal pill which its makers claim will make your penis bigger. The infomerical features a Dr. Daniel Stein and a bunch of testimonials for paid actors all claiming that their penis has gotten bigger from taking Extenze. One may even claims his penis has gotten 1 inch longer as a result of taking extenze. The show appears to many as legitimate and Dr. Stein coems across a very credible. But it's just a lie and Eztenze is massive scam. Just look at these FACTS and documents they Desperately Don't Want you To Know About: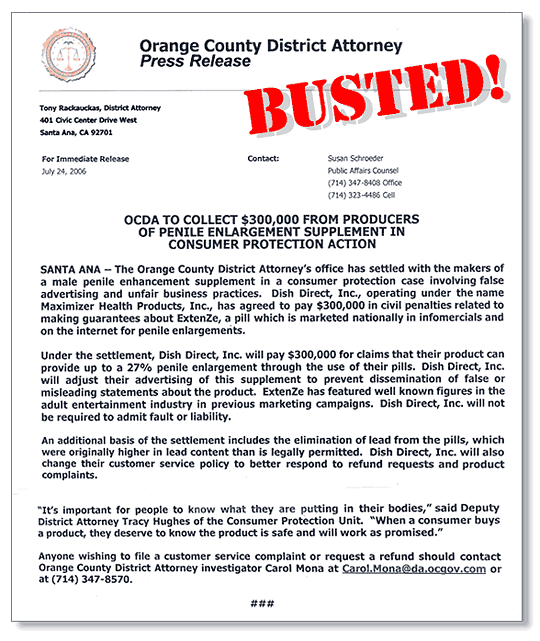 1.
The makers of Extenze we fined $300,000 in July of 2006 by the Orange County District Attorney office for false advertising claims. Specifically they were nt longer allowed to make the claim their product makes a mans pensi 27% bigger, since there was no scientific basis for this false claim. Not only were their claims incredibally false - but the pills also contains huge amounts of lead!
See the press release fron the Orange County District Attorney.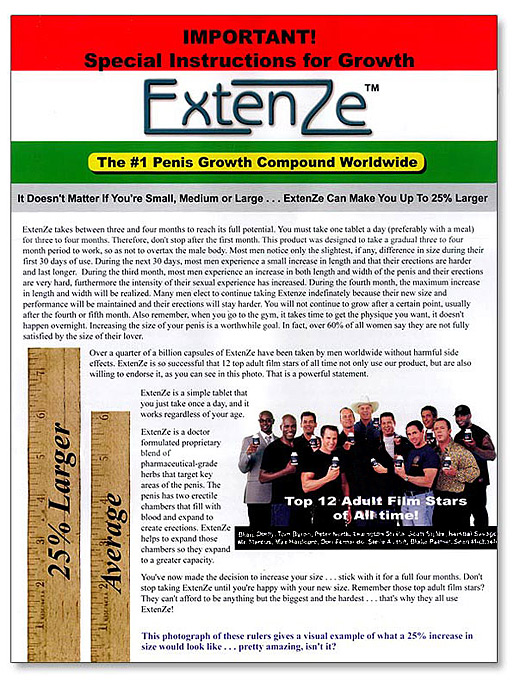 2.
In direct violation of their settlement agreement with the Orange County District Attorney, the makers of Extenze still send out a flyer with each and every order of Extenze that makes the claim that taking Extenze tablets will amek you penis grow 25%. See the flyer below. ( It is interesting to note that the makers of Longitude went to prison for making the claim that Longitude makes a mans penis grow 24%.)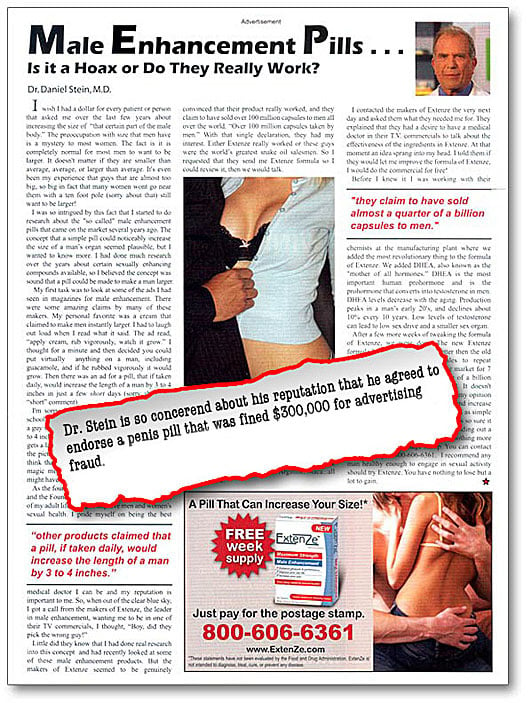 3.
Dr. Stein wrote this advertisement which appears as a full-page ad in Stuff magazine. In the ad Dr. Stein makes it extremely clear that he has never endorsed any other penis growth pill before. He uses his medical degree to tell men Eztenze can maek their pensi grow. He also claism that he agreed to appear on the Extenze TV show for free - implying he has not received any money for his endorsement of Extenze. He is lying! As you will see he endorsed a scam product called Alzare which ran on television years ago before it was pulled off the air as a result of being a massive fraud. Pictured below is a magazine ad for Alzare that Dr, Stien hoped no one would every see.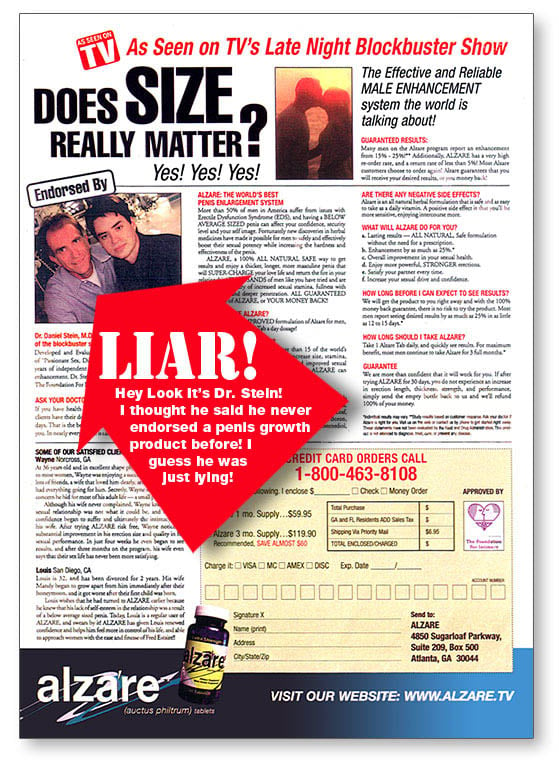 4.
Here is the ad for Alzare that appeared in magazines a few years ago. Dr. Stein is pictured right there in the ad for this product which was also a scam. It's sleazeballs like Dr. Stein that give doctors a bad name.
What ever happened to Alzare? If it was such a great product and worked as well as it claimed and it was endorsed by Dr. Stein why was it taken off TV and called one of the biggest frauds in the histroy of advertising?
5. Extenze is a massive scams that has ripped-off tens of thousands of men.
Don't waste your money on this fraud.
Class Action Lawsuit Against Extenze Approved!