I hate scams! Absolutely hate them! In fact, it's one of the reasons I created my website and am spilling the beans on the penis pill industry. Very few people know as much about this industry as me. I believe I am the world's number one expert on this subject. But, you have to watch out for scams. Here are 3 new hot scams to watch out for.
Blackcore Edge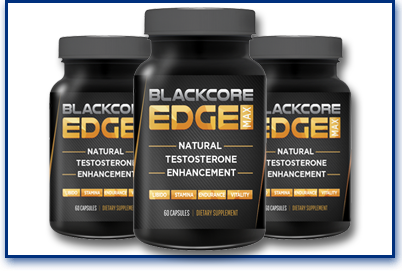 Just look at the comparison between the Blackcore Edge ingredients and the Big Jim & The Twins ingredients. It is the exact same product. Identical. You can buy Big Jim & The Twins for $8.58 on Amazon. If you look at the ingredients it's not filled with extracts, it's all powder. The key ingredient in any penis pill is Tribulus Terrestris – and look at their ingredient list – it's listed as (herb powder) in other words TOTALLY FUCKING WORTHLESS!
They also do a shady automatic credit card billing scheme which they call their "Replenishment Plan", which is a tricky way to say they bang your credit card every single month until you scream and yell and say stop. Look at the page from their website showing their fine print. Just another billing scam from a group who also run a phony dating site. They tell you girls are in your area and want to fuck. They grab your credit card and bang the shit out of it, and then you find out there are no girls. All Fake like Ashley Madison.
Beware of This Worthless Crap.
Ads for this bottle of pure crap are all over the porn websites promising to make your dick up to 13" long. What a joke. They try and make this bottle of junk sound scientific when in fact, it's just an old formula that has been around forever and they put a different label on it. The REAL name of this product is called Big Jim & The Twins! Is that the most retarded thing you have ever heard? Look at the label. The scumbags behind Blackcore Edge just buy bottles of Big Jim & The Twins and puts their own label on it.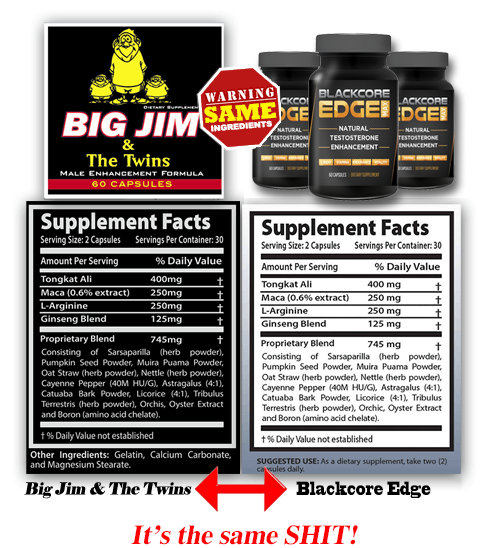 King Size


Watch out for this scam from some pieces of shit operating out of Tampa, Florida. These guys are the fucking scum of the earth! I am going to explain to you exactly how this scam works and what pieces of shit these people are so you don't get ripped off. They offer a FREE Trail – and yet secretly charge your credit card $289.91 in the first 30 days! Yeah, $289.91 –total fucking scam for two bottles of worthless powder. Pay attention to how this works so you don't get screwed by these low life scum bags giving the supplement industry and the porn industry a very bad name. It's douchebags like these guys that make my job harder – but I don't play games, I'm exposing them in front of everyone so more guys don't get screwed.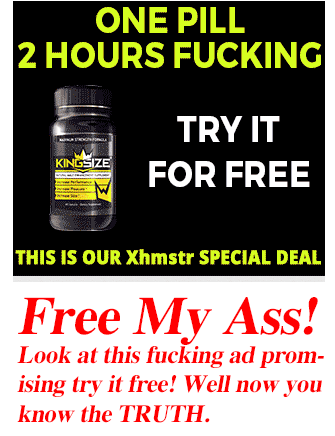 You have seen the ads out there to "Fuck for two hours" or "Last Longer" and you see a photo of a bottle of pills called King Size. Well it's a King Sized Scam from some King Sized Scum! (See how I tell is like it is – no one will give you the straight scoop – fuck these guys they are crooks!)
So if you click on their ad it takes you to some bullshit blog supposedly written by some woman named Jenna. It's total bull shit. There is NO FUCKING Jenna – the only Jenna in porn is the one and only Jenna Jameson, who is here on my site of course live talking in a video – not some fake Jenna blog pretending to be her. Anyway this fake blog talks all about this product King Size and how you can get a FREE TRIAL and all you have to do is pay a small shipping charge of $4.95 for a bottle. It's total bullshit. They have other scam products too like VirilityX3, Evermax and FB1 Test.
Look at the fine print from their sleazy, scummy website titled TERMS and CONDITIONS. Below the picture of their this photo below I explain how these fuckers bang your credit card for $289.91 in the first 30 days.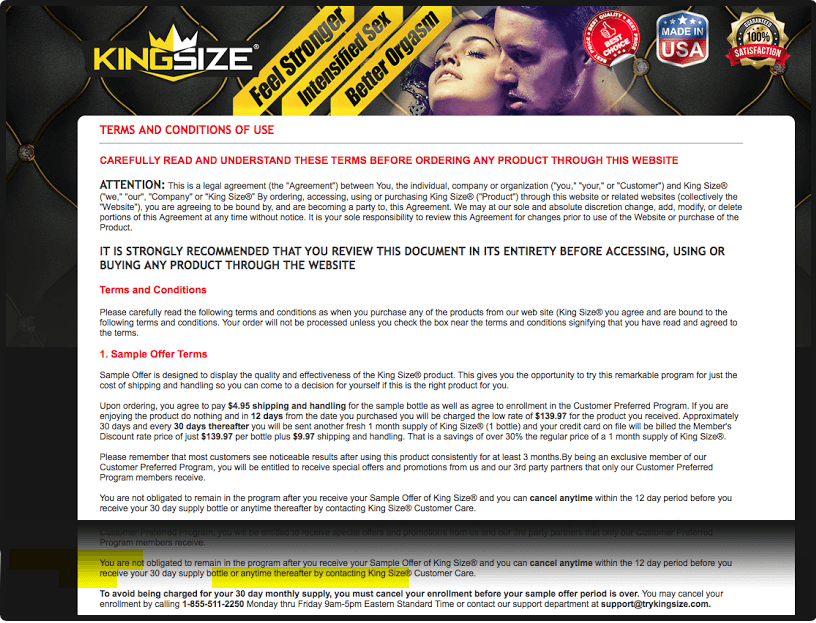 So this FREE TRIAL bottle is a bunch of shit. They charge you $4.95 to get the free bottle. Then 12 days later they charge you $139.97 for the bottle you think is free. So you are paying $4.95 to get it shipped out to you, and if you don't return it to them they will silently charge your credit card $139.97 – hoping that most guys don't check their credit card statement every day and the $139.97 charge slides by.
Then 30 days later they will again charge you $139.97 and $9.97 shipping, so a total of $149.91 and send you a bottle of their worthless King Size pills. Is this fucking incredible? It this the biggest scam you have ever scene? So you think you are getting to try a bottle of King Size – which is worthless powered crap and couldn't make the cock of a flea hard- and in reality they bang your credit card almost $300 bucks. But then it gets WORSE.
If you try and return the stuff they have a 35% "Restocking fee". Restocking fee like they are some legitimate company. Bunch of fucking crackhead crooks. So 35% of $139 is like $50. So they charge you $50 for something you didn't want, even if you give it back to them unopened. So if you get two bottles it's basically a $100 "restocking fee". Yeah it cost $100 bucks to have some sleazy crack head open an envelope and take out a bottle and ship it to some other sucker. And if you open the bottle you get ZERO refund. Plus when you call these criminals they threaten to fuck up your credit or to report you to a credit bureau in order to try and keep the entire $289.91 they charged you. Good luck getting your money back. These guys are professional con artists who know how to screw people.They ran a phone "cramming" scam too.. The only way to get out of it is to call your bank and cancel your credit card.
So these guys are the scum of the earth. ALL "Free Trial" offers -every fucking one - is just a total credit card scam. Bait and switch. The "4 Inches in 4 Weeks" scam video for Xanogen is a total credit card scam too. Stay away from these pieces of shit and don't fall for any "Free trial" offers. They are anything BUT free. Nothing worth anything is FREE!
4 Inches in 4 Weeks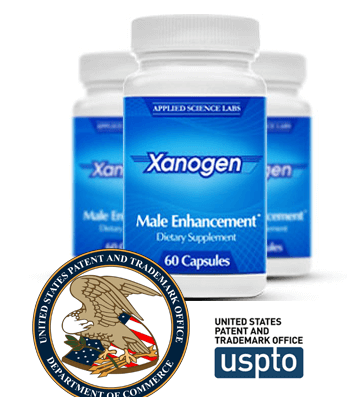 Have you seen the website 4 Inches in 4 Weeks? It's another massive, massive scam. These guys are total lying pieces of shit. They are hiding out in Tax Free St. Kitts to avoid American authorities because of the credit card scam they are running.
Check out the trademark registration they have filed. Look a the address for the company – it's a fucking P.O. Box in Charlestown St. Kitts – that's a tiny little island in the Caribbean. What a joke. The head honcho, Paul T., is really hiding out in a house in Fort Lauderdale he bought in February of 2014. The house credit card fraud bought!!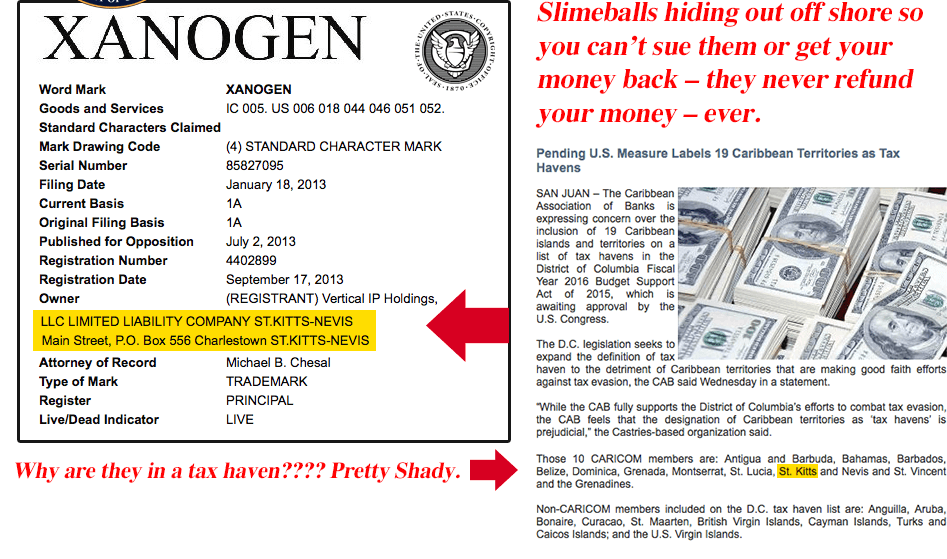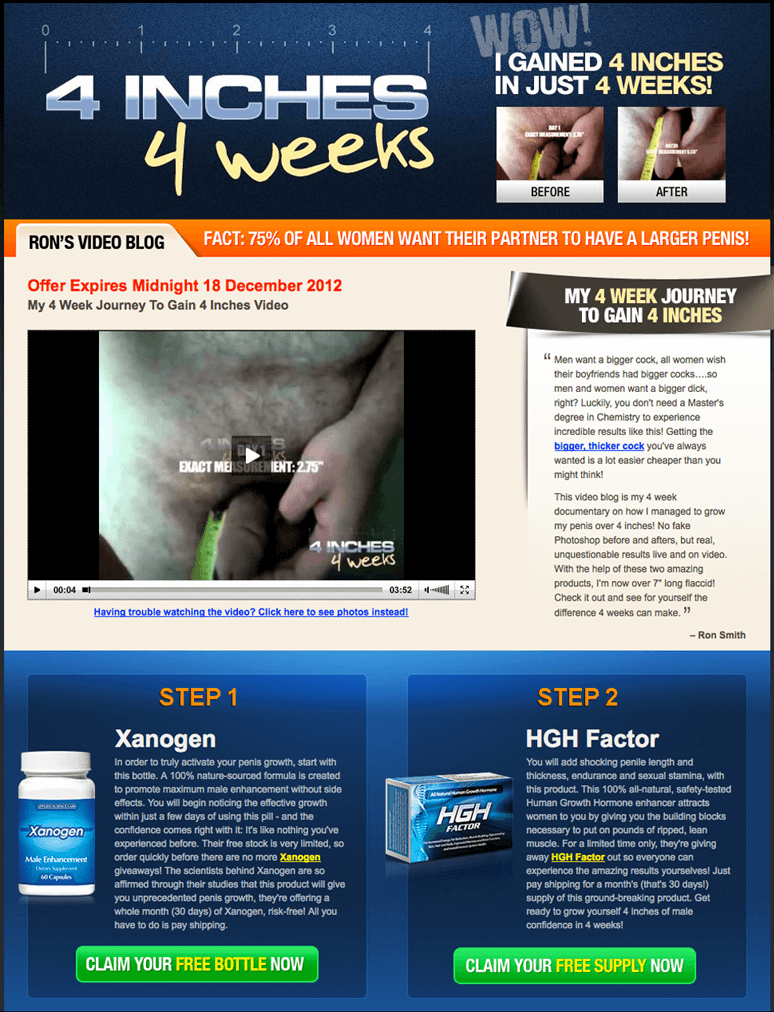 Here is how this scam works. The have a video presentation called "Ron's Blog" – Oh really a Ron's Blog – they are trying to pretend they have the only and only Ron Jeremy – but it's not me. I'm so tired of scumbags trying to cash in on my name, but these guys are real crooks. So they have this phony video which claims you can grow your penis 4 inches in 4 weeks – that's impossible – especially with their worthless product. They then offer you two free trials of product they claims you need to take together to grow 4 inches in 4 weeks. Do you know why REALLY they offer you two free trials? So they can bang you credit card twice as hard. That is the truth. It's a bait and switch scam.
So Check out The Xanogen "Risk Free" trial where you only pay for shipping and handling! Yeah Right.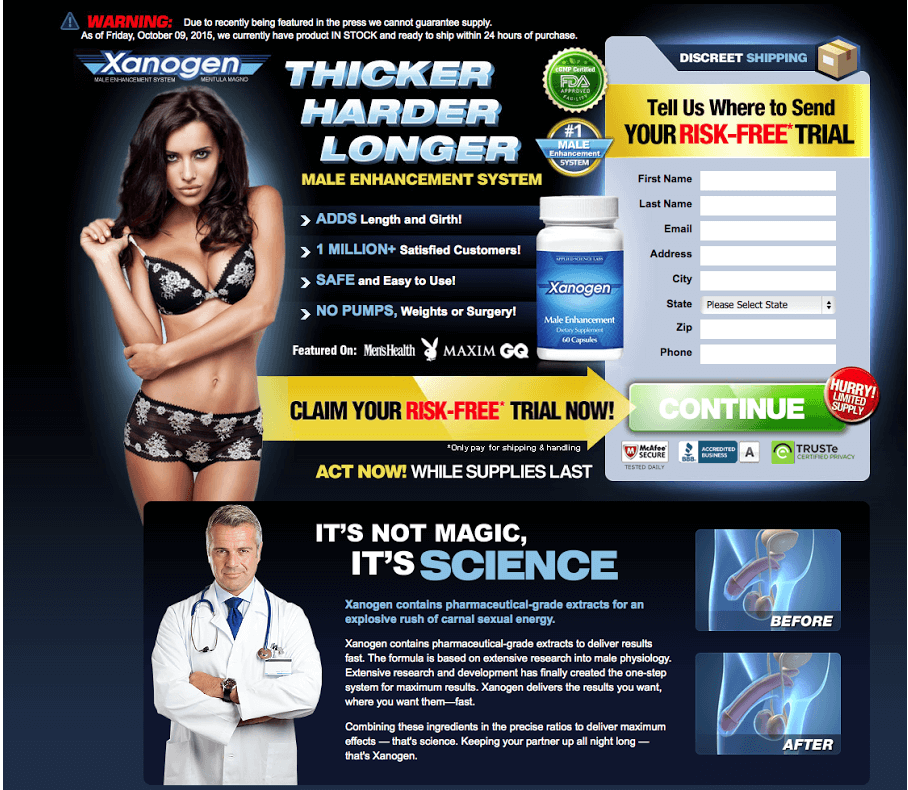 But Lets look at the Xanogen "Terms & Conditions"
See how fucking shady this is. "If you love Xanogen as much as we do, simply do nothing and at the end of your 15 day trial, you will be charged the super low price of $79.95 – a nice saving." Are they fucking crazy!! They don't tell you the truth of course. They just bang your credit card for $79.95 for a bottle of their worthless crap which doesn't do any of the things they claim. And then 30 days later they send you another bottle after they charge your credit card another $79.95 plus shipping – so just like the fucking King Size scam – these guys send you two little shitty bottles of worthless powder and charge you $170. But wait it gets worse… way worse.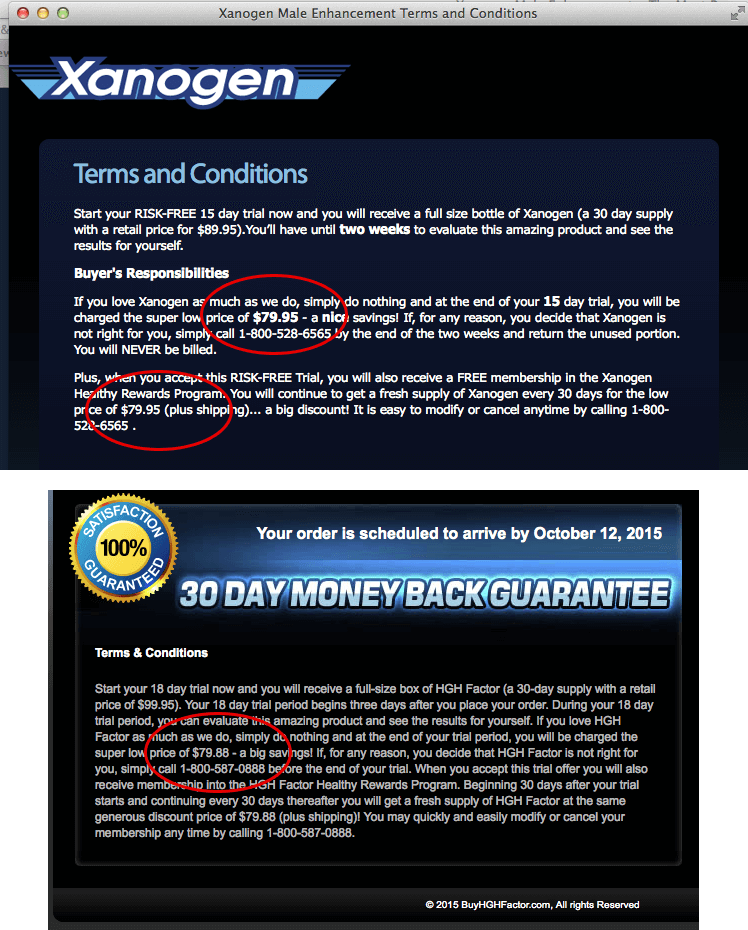 And good luck trying to get your money back.
If you open the product you won't get a fucking penny back. The guys fight with you like street brawlers and threaten to fuck up your credit and all kinds of nasty shit. The whole thing is just one big credit card scam. They sell this crap for $78 – which would be fine if it worked – but it doesn't and they know it, that's why they have to trick you with this scam. It sucks that there are at least 10 great products on the market and all the scamsters give the industry a bad name and leave so many guys screwed. Well fuck all the scamsters, Ron Jeremy tells it like it is – so don't get screwed.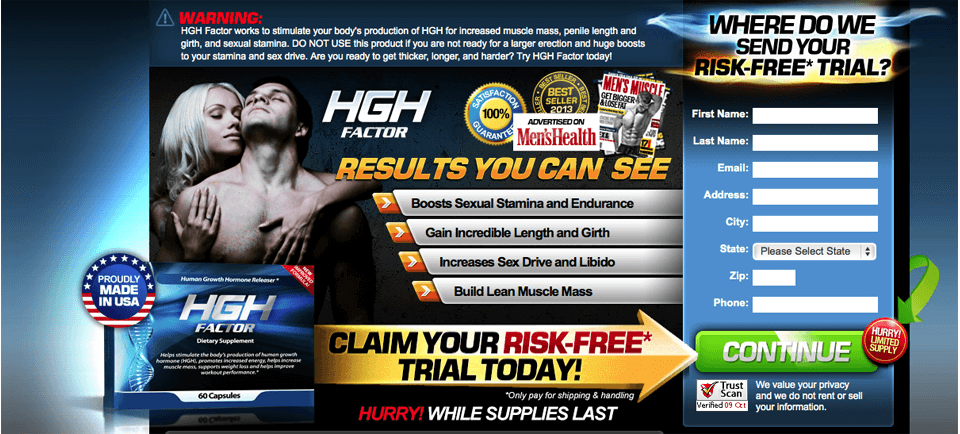 SizeGenetics Penis Extender

No other product on the market is a bigger crock of shit than this stupid fucking penis extender. Looks like some medieval torture machine for your cock. And it cost almost $400. It looks all complicated so they figure people must think it works. It doesn't work - its fucking retarded! Stretching your dick in this stupid thing, even if you can it on your cock will do nothing. And for it to work they say you have to wear it for 6 hours a day! WTF. Are you supposed to go to work with this on your dick? Are you supposed to sleep with this on your dick? Fucking insane!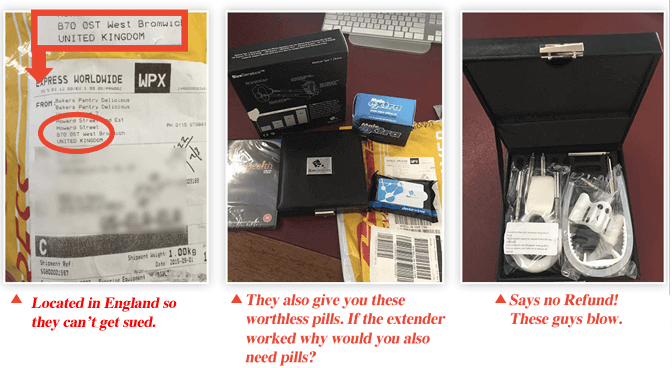 I know a bunch of guys who tried this and said it's a joke. Numerous studies and articles have been done on this saying it does not work. ONE STUDY claims that with 6 hours a day after 9 months you as almost 1/5 and inch!!! What a joke. 1/5 of an inch - that's nothing. Plus, I'm sure the study is bullshit.
One way you can absolutely tell it's such a crock of shit is that they also give you 2 boxes of MaleExtra pills with this contraption. Why? If the stupid extender worked why would you need pills? The pills suck by the way - worthless powdered crap. The company is based in England so they can't get sued in America. $398 for a wrench set for your dick. And you get no refund. Look at the packaging. It says once it is opened there are no returns - suckers! This product should be put in the Hall of Fame of Crap - right next to KingSize, Xanogen and Blackcore Edge. Fuck this company trying to screw people making it seem legit, what because it's from England and "looks" so sophisticated. Waste of money.