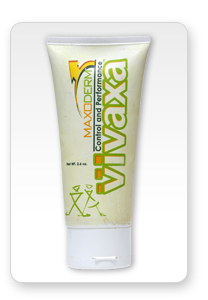 Vivaxa -

Vivaxa works by helping to soothe the hypersensitive skin of your penis without completely numbing it, so you can last longer. Also it does a nice job of not numbing her like some of the desensitizing lubricants on the market.  One of the big problems with the products like Man Delay and many of the "stay hard" creams is that they are basically pure benzocaine which practically puts your penis to sleep it can be so strong. Here, Vivaxa does a great job of desensitizing your penis just enough so that you can last longer, while not making you or your companion too numb.  The product has a nice pleasant smell as well which is a plus. It doesn't smell like you are wiping medicine onto your penis!

It is definitely one of the top 5 orgasm control gels on the market.  It is made by Barmensen Labs, the same company that makes Maxoderm and Vazomyne.  As you know we are not impressed with Maxoderm at all, and Vazomyne is a good solid product, but Vivaxa is clearly their best product.  It is extremely difficult to create a cream or gel that walks that fine between making you too numb so that is wrecks sex, and giving you the right amount that makes you a little desensitized so that you can last longer and still enjoy sex, while also not alerting your lover that you have a bunch of medicine goop on your penis.  Joins Xantrin, Hightenz, and Zyrexin cream as the only lotions that actually work. 

The ingredients  of Vivaxa are: Propylene Glycol, Di-PPG-2 Myreth-10 Adipate, Isopropyl Myristate, Butylene Glycol, Glycerin, Glyceryl Stearate, PEG-100 Stearate, Glycine Soja (Soybean) Oil, Stearyl Alcohol, Dimethicone, Hydrogenated Lecithin, Menthol, Xanthan Gum, Arginine, Lactic Acid, Niacin, Tocopheryl Acetate, Laureth-3, Hydroxyethylcellulose, Acetyl Dipeptide-1 Cetyl Ester, Hexapeptide-17, Methylparaben, Propylparaben, Diazolidinyl Urea.

 Many men have reported delaying their premature ejaculation by minutes with Vivaxa. Their website might be filled with a bunch of hype, but the product is good and the hype is not that far off. You can expect a little puffery and exaggeration from most marketers, but Vivaxa is a product that works. Sold in many retailer drug stores and Target stores nationwide for about $25 for 2 ounces.  Good Product that can help you last a little longer.

We have had some reports that vivaxa has been discontinued.