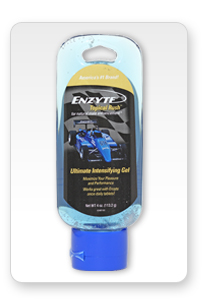 Enzyte Topical Rush – Billed as the "ultimate Intensifying Gel" this has a very nice smell and cool blue look. Manufactured by the makers of Enzyte, it was initially offered as free giveaway when you bought Enzyte. Now, you can by it separately at many stores and on line. It's actually a better product than Enzyte.  It is very similar to the gel made by Jimmy Jane, except this one is a cool looking blue.   It's a combination lubricant and last longer product.
As far as making you last longer – it might help you last a little bit longer, but nothing too spectacular.  It's really more of a fun kind of thing to maybe use once in awhile to try something new. It makes your penis warm and tingly and many men like the warm feeling that is not too strong or over the top.  Will not numb your penis like so many of the desensitizing creams.
The formula includes Water, Glycerin, Hydroxyethylcellulose, Lactic Acid, Methylparaben, Imidazolidinyl Urea, Panax Ginseng, Ginkgo Biloba, Pinus Pinaster Bark Extract, Tribulus Terrestris, Swedish Flower Pollen, Avena Sativa, Arginine HCI, Lepedium Meyenii Root, Serenoa Serrulata Fruit Extract, Epimedium Sagittatum Extract, Muira Puama and coloring.
Overall it's a good product that a lot of men enjoy.  If you are looking to last longer here this is not what its main purpose is, but it actually works better than most. GRADE B