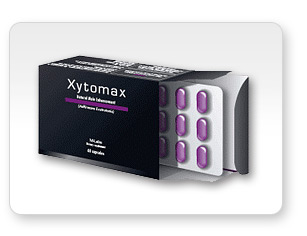 What is Xytomax?
Xytomax is a nutritional supplement that claims to boost testosterone levels, which may play a key role in sexual performance. They believe it also helps enlarge the penis and prolong erections, acting as a treatment for erectile dysfunction (ED), a sexual disorder that makes it difficult to have--or maintain--an erection. But don't expect immediate results--according to their website, Xytomax.com, typical results (a 1 to 3 inch increase) appear within 3 months of use.
Ingredients: Xytomax contains vitamin B3, zinc, epimedium saggitatum, maca root, guarana extract, Korean ginseng root, l-arginine, muira puama, longjack extract, avena sativa, yohimbe bark extract, ginkgo biloba extract, saw palmetto, xanthoparmelia scabrosa, cnidum monnieri extract, GABA and damiana leaf.
Does it Work?: No--and here's why. Numerous health organizations, including the Food and Drug Administration (FDA) and the Mayo Clinic, warn consumers not to use supplements claiming to enlarge the penis because it's often based on faulty or misleading evidence. MayoClinic.com reports some penis enlargement pills can also contribute to erectile dysfunction (ED), which Xytomax actually claims to treat. None of the ingredients in Xytomax have been show to "grow" the penis, and such claims are not backed by any medical or health organizations.
But this doesn't mean Xytomax is completely ineffective. According to several studies, ginseng and l-arginine may play a key role in erectile function, which can be affected by ED. One study conducted by Sao Paulo University shows that ginoserides, the active chemical in ginseng, improved erectile function by stimulating the gonads, making it easier to maintain an erection. But l-arginine's benefits are more direct: clinical evidence suggests it may play a key role in the synthesis in nitric oxide, which is needed to "create" an erection. But both ingredients have a slew of unwanted side effects, many of which can affect blood pressure levels.
Is it Safe?: No. Ginseng is known to cause insomnia, increased bleeding, dramatic changes in blood pressure readings, diarrhea, headaches, nausea and breast pain. L-arginine can also affect blood pressure levels. Xytomax also contains a toxic herb called xanthoparmelia scabrosa, and is not recommended for daily use.
Grade: C. It seems a bit far fetched that one supplement alone can increase penis length--no health or medical organization currently supports this claim. But Xytomax contains two ingredients that may be essential for treating ED, called l-arginine and Korean ginseng root. Don't forget the staggering amount of side effects associated with this supplement, however. Many of them can be potentially life-threatening.