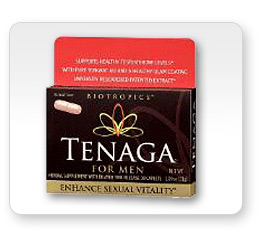 What is Tenaga XX?
Tenaga XX is a proprietary male enhancement formula based on ancient Mayalsian medicine, which they claim instantly revives male vitality. Tenaga XX credits most of its efficacy to tonkgkat ali, a patented extract that may promote testosterone production--a key component of libido, or a man's sex drive. Although they hesitate to say what it specifically treats, they emphasize it is a extremely effective supplement for treating all types of sexual problems.
Ingredients: Tenaga XX contains a proprietary blend of eurycoma longifolia root extract (tongkat ali), cosmos caudatus leaf extract, lemon and safflower extract.
Does it Work?: It might. According to a study conducted by National Product Communications (NPC), tongkat ali increased plasma testosterone in male rats, which indirectly improved their sexual performance. It also increased the rats' sperm count, which helped improve fertility levels. Its natural testosterone-boosting properties earned it the moniker "herbal Viagra" among some health companies, who currently sell it as a natural cure for erectile dysfunction (ED). Both cosmos caudatus and safflower have not been tested for its sexual efficacy, and are not considered effective sexual aids by any reputable health or medical organization.
Is it Safe?: No. Tongkat ali can cause insomnia, restlessness and anxiety. It can also weaken the immune system, and should not be used by men with weak immune systems, diabetes, or who are taking immunosuppressant drugs.
Grade: C. Tenaga XX has been shown to increase testosterone levels, and may be a suitable treatment for poor sexual function. But Tenaga XX is not completely safe--tongkat ali can cause numerous health issues, especially for people with a weakened immune system. People with diabetes, a weakened immune system or who suffer from anxiety disorders should seek medical advice before considering this supplement to avoid further complications.