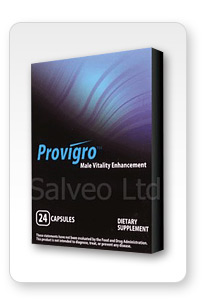 What is Provigro?
Provigro is a dietary supplement that claims to promote "male vitality", and indicates it may be a useful treatment for erectile dysfunction (ED), a common sexual disorder. But they believe the true key to reproductive health isn't the use of pharmaceutical drugs--they believe using all-natural ingredients helps ensure efficacy and safety. They recommend using their supplement every day to naturally improve erectile rigidity and function.
Ingredients: Provigro contains barrenwort, maca, velvet bean, tongkat ali, panax ginseng and l-arginine.
Does it Work?: Yes--but some of its ingredients are also potentially dangerous. Barrenwort may help reduce ED because researchers believe it's chemically similar to sildenafil, the active ingredient in Viagra. According to the Journal of Urology, barrenwort also inhibited PDE-5, which sildenafil also inhibits. This suggests it may be a viable treatment for ED, although it's not as effective as sildenafil.
Velvet bean has also been shown to improve the libido. According to a couple of national studies, velvet bean increased dopamine production, one of the main factors that increases sexual function. It also may improve erectile function, although this hasn't been proven in any scientific studies.
Many of Provigro's ingredients are potentially dangerous, however. Panax ginseng and l-arginine are known to cause a variety of side effects, and cause worsen blood pressure and asthma.
Is it Safe?: No. L-arginine can cause lung inflammation and can worsen asthma due to its effects on the lungs. Panax ginseng can cause nausea, diarrhea, headaches, nosebleeds, sudden or rapid changes in blood pressure and insomnia. If used with antidepressants, it can also trigger mania-like symptoms in some men.
Grade: C. Although many of Provigro's ingredients are beneficial for men with ED, its not completely free of side effects. Both l-arginine and panax ginseng can cause serious complications, which can affect people on antidepressants or who suffer from asthma. Although efficacy is important in a male enhancement supplement, so is safety--and Provigro doesn't score well in this area.