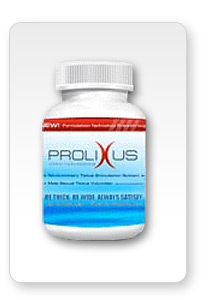 What is Prolixus?
Prolixus is a natural penis enlargement supplement that claims to widen and thicken the penis instead of lengthening it--a common claim made by male enhancement companies. According to Prolixus, lengthening the penis is impossible, but beefing it up--akin to building arm or leg muscle--is possible due to its ingredients, which include niacin and epimedium. To promote thickness, they utilize a technique called the tissue stimulation transport system, which transports these key ingredients to the cells inside the penis, causing immediate enlargement.
Ingredients: Prolixus contains niacin, epimedium, ginkgo and ginseng.
Does it Work?: It could. According to one study, ginseng has been shown to stimulate the gonadal tissues with regular use--this essentially means it makes it easier to have an erection. Other evidence also suggests it also has strong aphrodisiac properties, and helps promote stamina during intercourse. Epimedium, better known as horny goat weed, has also been shown to be an effective aphrodisiac--it promoted reproductive properties in animal studies. Epimedium also contains a chemical called icariin, which is chemically similar to Viagra's active ingredient, sildenafil.
But these ingredients aren't completely safe—some of them increase the risk for gastrointestinal disorders and bleeding. Both gingko and ginseng increase bleeding, and can be potentially dangerous for people with bleeding disorders.
Is it Safe?: No. As mentioned above, both ginkgo and ginseng increase bleeding, and is not a safe supplement for men with bleeding disorders. People who take anticoagulants should also seek medical advice before taking Prolixus. There is also an increased risk for gastrointestinal upset, nausea and vomiting.
Grade: F. The evidence clearly shows Prolixus contains some strong aphrodisiac properties, but there's also an increased risk for bleeding, which can be potentially dangerous—or life-threatening—for men with bleeding disorders. There is also no evidence it can increase penis length, and may be ineffective for this use.