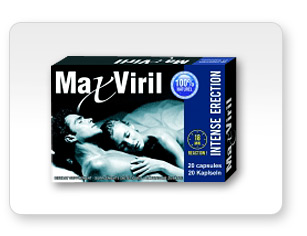 What is MaxViril?

MaxViril is a natural male enhancement supplement that claims to desensitize the glans, which helps delay ejaculation--a common problem for men who suffer from premature ejaculation dysfunction. It also supposedly increases blood flow to the penis, increasing its size within 18 minutes of use. To enable this, MaxViril uses a specialized flower formula, in extract form, to attack sexual dysfunction at its source. These ingredients are also free of stimulants and synthetic chemicals--properties that could cause unwanted reactions, like with Viagra or Cialis.

Ingredients: MaxViril contains rhodiola rosea, damiana, nutmeg, saffron, liquorice, ginseng, pine, nettle, and polygala comosa.

Does it Work?: It might. Ginseng was shown to contain aphrodisiac properties in several American studies--some evidence suggests it stimulates the penile tissues, which helps men get an erection. It also may stimulate the central nervous system, which helps improve sexual stamina.

MaxViril's other ingredients have not been proven effective for the treatment of any sexual dysfunction, however. Studies show saffron and nutmeg do not improve erectile strength or function, despite its use as a cure-all for sexual problems in Indian medicine. Many of its ingredients also contain psychoactive properties, which can affect the secretion of hormones in the brain, leading to psychiatric effects--such as a feeling of "drunkenness", hallucinations or sudden mood changes.

Is it Safe?: No. Damiana can cause adverse reactions in people with a history of breast cancer, a psychiatric disorder (such as bipolar disorder), dementia, Parkinson's disease, or who take diabetic medications that control blood glucose levels. Ginseng and nutmeg can also cause psychiatric problems, such as mania and hallucinations.

Grade: C. Although ginseng can help improve the frequency of erections, this probably isn't a desirable effect for men who suffer from premature ejaculation dysfunction. None of its ingredients treat any symptoms related to this condition, and may cause dangerous psychiatric reactions. People with a psychiatric disorder should speak with their doctor before taking this supplement.