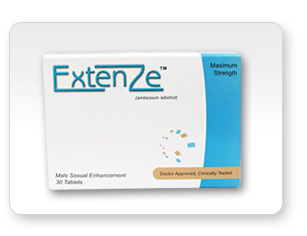 What is Extenze?

Extenze is a male enhancement supplement that claims to naturally boost the length and girth of the penis by nearly 27% making intercourse more pleasurable—and more exciting for their partners. It also supposedly reduces problems associated with erectile dysfunction (ED), which makes it difficult to achieve an erection. A nationwide TV advertising campaign made it initially popular with American men.

Ingredients: Extenze contains folate, zinc, micronized DHEA, prognanolone, black pepper, piper longum, ginger, yohimbe extract, tribulus terrestris extract, Korean ginseng root, cnidium monnier, eleutherococcus extract, xanthroparmella scarbrosa, gamma-aminobutryic acid (GABA), velvet deer antler, horny goat weed, damiana, muira puama extract, pumpkin seed, stinging nettle root, astragalus root, licorice extract, L-arginine, Ho Shou Wu extract, hops extract and boron.

Does it work?: It might. According to the National Institutes of Health (NIH), there is enough clinical evidence showing yohimbe extract effectively treats problems caused by erectile dysfunction. There is also some anecdotal evidence it may increase the sex drive, although studies showed it wasn't very reliable.

The Journal of Urology also showed Korean ginseng, or red ginseng, helped treat erectile dysfunction by improving penile rigidity and strength, making it easier to maintain an erection.

But none of these ingredients cause temporary penis enlargement, which Extenze claims to do.

Is it Safe?: No. According to a 2005 report by the Los Angeles Times, Extenze was fined $300,000 for making false claims about its product, which included using unsafe levels of lead—and not disclosing it to its customers. Although Extenze has removed lead from its product since the report, there are still major side effects associated with it, including heart palpitations, confusion, fainting and migraines. Because it may affect blood pressure, people with diabetes, heart disease or high blood pressure should not take Extenze.

Grade: D. If some things sound too good to be true, it probably is—Extenze being no exception to this rule. Although its rich herb complex may improve symptoms of erectile dysfunction, it is not a cure for it.