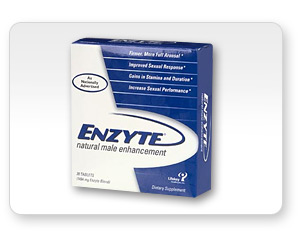 What is Enzyte?

If you're a regular TV viewer, you're probably familiar with "Smiling Bob", the happy-go-lucky spokesperson for Enzyte, a male enhancement product. The sprinkling of sexual innuendos in each Enzyte commercial alludes to its biggest supposed benefit—its ability to increase penis length and girth. According to Enzyte.com, however, it doesn't just make men bigger down there—it also improves sexual performance and stamina. With over 10 million boxes sold worldwide, it's hard to argue the popularity of this all-natural male enhancement product.

Ingredients: Enzyte contains ginkgo biloba, horny goat weed extract, Korean ginseng, tribulus terrestris extract and L-arginine.

Does it Work?: Maybe. Both ginkgo biloba and Korean ginseng increase blood flow to the penis, making it easier to get an erection. Korean ginseng also increase nitric oxide levels, having a positive effect on the pleasure centers in the brain. Hypothetically, this should improve sexual satisfaction and libido, making sex more pleasurable.

But these ingredients don't play a role in Enzyte's supposed ability to increase the penis's length and girth. Although increased libido may strengthen the hardness of an erection, which may increase length, this isn't a permanent fix. Once the erection disappears, so does its length.

Is it Safe?: No. Enzyte contains bee pollen, which can be harmful for people with pollen allergies. It may also cause hypotension, or low blood pressure. People with diabetes, heart disease or Parkinson's disease should not take Enzyte because it may worsen these conditions. People with a history of schizophrenia should also avoid taking Enzyte because it contains Korean ginseng, which reportedly causes increased agitation in schizophrenics.

Grade: C. Enzyte may not give you a fuller, longer erection, but some of its ingredients may improve libido, stamina and erection strength, improving sexual satisfaction. It's not the cure for erectile dysfunction, however, and is not completely free of harmful ingredients. "All-natural" is not necessarily an indicator of safety in this case.