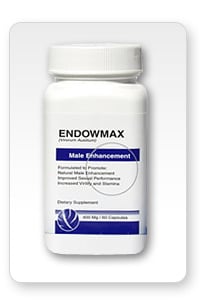 EndowMax
– Endowmax is a male enhancement pill that claims to enhance penis size, with the added benefits of increased sexual stamina and ejaculation volume. According to their website, most men see an increase of 1 to 3 inches within several weeks of use, or a 28 percent increase. It supposedly causes this by stimulating blood flow to the penis, gradually increasing its length, girth and strength.

Ingredients: Endowmax contains epimedium grandiflorum (horny goat weed), maca root, damiana, l-arginine, tribulus terrestris, gamma-aminobutyric acid (GABA), jujube dates extract, muira puama, catuaba bark, xanthoparmelia scabrosa, cnidium monnieri and eurycoma longifolia.

Does it Work?: Some evidence suggest it might. Several studies, including a recent study reported in the Journal of Urology, report horny goat weed helps increase penile blood pressure, improving erection strength and durability. According to a 2006 study, rats who received horny goat weed injections demonstrated an increase in blood pressure to the penile tissues, which improved the frequency of erections. Although this hasn't been shown to increase penis length, some health websites are recommending this as a natural alternative to sildenafil, better known as Viagra.

Maca root, jujube dates and catuaba bark have not been proven to increase penis length or strength, however. Although all three ingredients have been used in traditional medicine as sexual enhancers, numerous studies have proven they are ineffective. To make matters worse, maca root contains glucosinolates, which increases a person's risk for goiters.

Is it Safe?: No. Maca root can cause goiters, a condition that causes swelling in the thyroid gland or voice box. Damiana also contains psychoactive effects and can interfere with the absorption of diabetes medications, such as Orinase and Avandia. It can also make it harder to control blood glucose.

Grade: C. Only one of Endowmax's ingredients has been proven to improve the frequency of erections--and that's horny goat weed. With the increased risk for goiters and uncontrollable blood glucose levels, this probably isn't the ideal supplement for diabetics or people with thyroid issues.