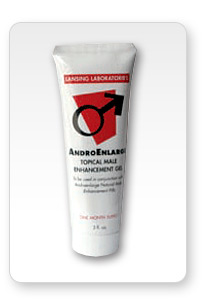 What is Androenlarge Gel?

Androenlarge Gel is a medicated ointment used to increase the length of the penis, "growing" the penis with regular use. According to Androenlarge's website, typical customers gain at least one inch a month, with an expected three inch increase with continual use. But how? By forcing the body to producing androgens, a type of sex hormone, causing the penis to grow longer. It essentially restarts puberty, available in a convenient gel form. The benefits may be enticing—but the $100 price tag probably isn't.

Ingredients: Androenlarge Gel contains purified water, Isopropyl Palmitate, Glycerin, PEG100 Stearate, Cetearyl Alcohol, Glyceryl Stearate, Octyl Salicy-late, Olive Oil, Lecithin, Propylene Glycol, Dodder Seed Extract, Epimedium Extract, Carbomer, Diazolidinyl Urea, Methylparaben, Propylparaben, Triethanolamine.

Does it Work?: No. Dodder seed extract is not scientifically proven to treat male reproductive problems, despite centuries of claims made by Chinese herbalists (it's commonly used in Chinese medicine). It also does not help "grow" the penis, like claimed on their website.

Epimedium extract, better known as the "libido" herb Horny Goat Weed, may increase nitric oxide levels in the penis, however—it essentially makes it harder and firmer, making it easier to maintain an erection. It doesn't increase its size, however—in fact, no herbs are able to increase the size of the penis.

Is it Safe?: Maybe. There are very few side effects associated with any of its ingredients. It may cause problems for people with serious heart conditions, however, because it affects the blood pressure.

Grade: F. Androenlarge Gel isn't scientifically proven to increase penis size-—in fact, there aren't any reproductive benefits associated with the male enhancement gel. You're better off saving your money—it's about as effective as placebo.