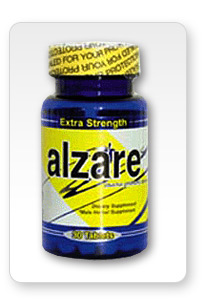 What is Alzare?

Alzare is an all-natural male enhancement supplement that claims to treat erectile dysfunction (ED), which prevents men from getting—and maintaining—an erection. They even claim to increase the length of the penis by up to 25%—a nearly one and a half increase for the "average-sized" man. But that's not all, says Alzare—expect to experience improved sexual confidence and lasting power by taking just one capsule per day.

Ingredients: Alzare contains zinc, yohimbe, maca root, l-arginine, bioperine, DHEA, saw palmetto, ginseng, and a proprietary blend of oat straw, catuaba, muira pauma, nettle leaf, tribulus, sarsaparilla, astragalus, pumpkin seed, licorice, boron, and damiana.

Does it Work?: No. Although yohimbine hydrochloride is approved for the treatment of erectile dysfunction—it's currently sold as-is as a prescription medication—Alzare contains yohimbe, not yohimbine. Although yohimbe and yohimbine are similar, they are not the same ingredients—yohimbe is less effective than yohimbine for the treatment of erectile dysfunction.

None of its other ingredients are proven to increase penis size or erection strength, including zinc and saw palmetto. They can decrease your risk for prostate inflammation, however, which may reduce some symptoms that also occur with erectile dysfunction. It won't make you longer or more virile, though.

Is it Safe?: No. Yohimbe can cause heart problems, including an increased heart rate or high blood pressure. It may also cause panic attacks, headaches, dizziness or hallucinations. It is also associated with an increased risk for seizures and kidney (renal) failure.

Grade: F. Alzare may be all-natural, but that doesn't mean it's safe—there are numerous side effects associated with yohimbe, one of its main ingredients. If you're looking for a male enhancement supplement to make you better in the bedroom, you're not likely to find it in Alzare. Better supplements include Zyrexin and Betterman.