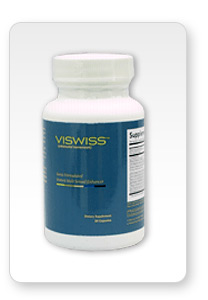 What is Viswiss?
Viswiss is a herbal dietary supplement that claims to cure erectile dysfunction--a common sexual disorder that typically affects men over 50. Viswiss incorporates a blend of ingredients designed to mimic the effects of Viagra and Cialis, but without its undesirable side effects. Regular use supposedly makes it easier to have an erection by increasing testosterone and blood flow, key areas that typically decrease due to increased sexual dysfunction. They also promise it works within 10 minutes to facilitate the erection process, making it one of the fastest working ED treatments on the market.
Ingredients: Viswiss contains yohimbe bark extract, epimedium, ashwagandha root, avena sativa, ginkgo biloba, Korean ginseng, maca, muira puama, saw palmetto, tribulus terrestris and l-arginine.
Does it Work?: It might. Both yohimbine and l-arginine have been identified as potential treatments for ED in the medical community, due to overwhelming evidence showing it improves penile function. The National Institutes of Health (NIH) gave
yohimbine a C for effectiveness, claiming it was shown to reduce symptoms of ED in numerous human trials. Other studies suggest it also increases semen volume and may treat orgasmic dysfunction, or an inability to achieve an orgasm within a reasonable amount of time.
L-arginine has also been shown to reduce ED by increase nitric oxide production, one of the main components of achieving an erection. There is also evidence l-arginine allows the body to release more hormones, which can heighten arousal and the sex drive. Together, yohimbe bark and l-arginine may contain the right components to effectively treat ED.
But there is one problem with Viswiss, and it's a big one--both yohimbe and l-arginine are potentially dangerous. There are numerous side effects associated with both ingredients, and may not be safe for a number of individuals. Many physicians are hesitant to recommend it because of the increased risk for these side effects.
Is it Safe?: No. Yohimbe bark can cause serious anxiety reactions, especially for men with pre-existing anxiety disorders. Yohimbe also increases a man's risk for high blood pressure, increased heart rate, insomnia, panic attacks, hallucinations and dizziness. Some physicians also report an increase in seizures and kidney failure.
With L-arginine, some common symptoms include lung inflammation, which can worsen asthma symptoms. There is also evidence it can disrupt blood pressure readings, and may worsen symptoms of genital herpes. Both ingredients carry serious blood, heart and psychiatric risks, and should not be used by men with a psychiatric disorder, heart problems, blood pressure disorders, genital herpes or breathing difficulties.
Grade: D. Although Viswiss may be an effective treatment for erectile dysfunction, it contains numerous side effects--some of which can be potentially life threatening. Buy wisely: speak with your doctor before taking this supplement to avoid serious complications.
See the full review for this ViSwiss Male Enhancement Scam.