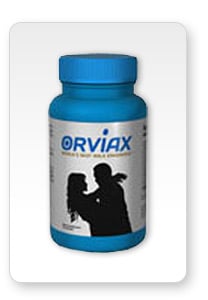 What is Orviax?
Orviax is a natural male enhancement supplement that claims to promote longer, harder erections, boost the libido and increase stamina, reducing sexual dysfunction. It supposedly works within 20 to 30 minutes to prepare the body for intercourse, working even faster than Cialis, an FDA-approved sexual dysfunction drug. Orviax credits its success to its proprietary blend of 11 herbal ingredients, including damiana, epimedium and gingko biloba, which they claim are completely free of any side effects.
Ingredients: Orviax contains damiana, horny goat weed, ashwagandha root, avena sativa, ginkgo biloba, Korean ginseng, maca root, muira puama, saw palmetto, tribulus terrestris and l-arginine.
Does it Work?: It might. Orviax contains horny goat weed, an herb shown to contain pro-erectile properties in several studies. It was shown to reduce sexual dysfunction by stimulating the penile tissues during sexual stimulation, resulting in harder, longer lasting erections. Some researchers even believe it's as effective as sildenafil, better known by its trade name Viagra.
Ginseng also reportedly increases sexual stamina and libido because of its effect on these same tissues. Ginsenoside, a chemical found in Ginseng, improves erection strength by stimulating the erectile tissues, making it easier to maintain an erection. It is considered a somewhat effective treatment for erectile dysfunction (ED).
But many of Orviax's ingredients are also proven not to work, including maca root, muira puama and avena sativa. Although it was used in traditional Chinese and Indian medicine to treat various sexual dysfunctions, it's been proven ineffective by various national studies. Some of these ingredients are also unsafe to take.
Is it Safe?: No. Ginseng can cause nausea, diarrhea, headaches, nosebleeds, sudden changes in blood pressure and breast pain. Men on antidepressants should take extreme caution--ginseng can also cause mania if used with certain antidepressants. Ginkgo biloba also worsens bleeding, and should not be taken by people on anticoagulants.
Grade: D. Orviax claims to make you bigger and thicker down there, but the evidence doesn't add up--in fact, only a few of its ingredients promote sexual stamina. Orviax comes up short when it comes to efficacy, but goes long when it comes to side effects, something this supplement isn't short of.