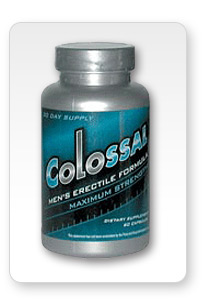 COLOSSAL – A decent product that is relying on flashy advertising and marketing gimmicks to over-hype the product produced by this Scottsdale, Arizona based company.  In fact, one thing that is very disturbing in their ads is an endorsement from a Dr. G Johnson MD. Why isn't the doctor's name given? Why isn't his area of specialty (i.e. urology) cited?  This endorsement with a doctor not fully identified seems odd. Many surveys commented on how peculiar this seemed. Putting this issue aside let's look at the formula itself. Delivered in a capsule form, it is a nice mixture of herbs and ingredients that can help you improve your erection size, energy and vitality.  It's a 1398mg per two capsules serving of 21 ingredients including Long Jack, L-Arginine and Maca Extract. Long Jack has been a compound that has really gained favor in the last few years due to some new findings. It has been shown to dramatically improve sexual performance and stamina.

A study conducted at the School of Pharmaceutical Science at the University of Malaysia showed that longifolia jack "produces a dose-dependent increase in sexual performance" on the treated subjects. Dr. H.H. Ang stated that, "the study provides evidence that longifolia jack is a potent stimulator of sexual arousal."

The company claims an average increase in erection size of 25%. Surveys we have received have indicated that increases were not quite at the 25% level, but improvements were noted. Colossal is a sound formula that can produce results better than average. GRADE C+

What is Colossal?
Colossal is a male enhancement supplement that helps improve a man's sex drive through its 19-ingredient complex, which includes ginseng, maca root and ginkgo biloba. It also claims to make erections—and orgasms—harder and longer-lasting, reducing the symptoms of erectile dysfunction (ED). "Many of the men using Colossal...report increases in size of up to 28%," says Colossal's representatives. Taken twice daily, results typically appear within a couple of weeks.

Ingredients: Colossal contains tribulus terresteris, yohimbe extract, niacin, epimedium sagitatum, avena sativa, maca root, potency wood, ginkgo biloba, saw palmetto, oat straw, ginseng, catuaba, nettle leaf, orchic substance, oyster shell, cayenne and pumpkin seed.

Does it Work?: Yes, but not very effectively. Tribulus terresteris, a flower extract, failed to affect libido levels in males in numerous studies, including one study reported in the International Journal of Sport Nutrition and Exercise Metabolism. All of its "reported" effects come from claims made by Jeffrey Petermann, a "strongman" who claimed it boosted libido levels in the 1970's. The real truth: there are no studies that show it contains any sexual benefits—this is all just hype.

But several studies show maca root may improve libido and increase sperm volume, including one study reported in the Asian Journal of Andrology. According to the study, men who took maca root for more than eight weeks noticed a significant improvement in semen quality and volume, although it isn't clear why. Ginkgo biloba may also help improve blood circulation, although evidence does support the notion that it improves erection strength.

Is it Safe?: Not entirely. Maca root consumption can increase a person's risk for goiters, especially if combined with a low iodine diet. Although rare, tribulus terresteris may also cause gynecomastia, or an abnormal growth of breast tissue in males.

Grade: C. Colossal contains a couple of ingredients that may improve semen volume and erection strength, with limited evidence showing gingko biloba may improve the strength of erections. There simply isn't enough evidence proving it effectively eliminates the symptoms of erectile dysfunction (ED), however. We recommend using more effective male enhancement supplements instead, such as Actra-RX or Zyrexin.