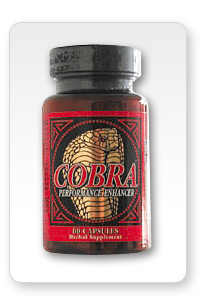 COBRA – One of the original natural male performance products. It is a product that must be taken for months before any real difference can be experienced. It has a nice base of top quality herbs that are good for overall male health, but it's a formula that is outdated. Much new advancement has taken place since this product was created years ago.The Formula includes 11 herbs including Kola Nut, Oat Straw, Nettles, Muira Pauma, and Damiana. It can give someone with a slight energy or circulation problem a boost, but don't expect dramatic results with this product. Some have said it's like a wooden golf club, they were once the best around, but those days are long gone. GRADE C
What is Cobra?
Cobra is a all-natural male enhancement supplement containing muira puama, better known as Brazilian "potency wood", which improves sexual performance. Other ingredients, such as ginseng, also supposedly improve energy and endurance during lovemaking, reducing common sexual problems such as erectile dysfunction (ED) or premature ejaculation. Positive reviews from Amazon.com and GNC have made it one of the most popular male enhancement supplements available today.
Ingredients: Cobra contains kola nut, yohimbe bark extract, oatstraw, nettles leaf extract, eleuthero, horny goat weed, catuaba, muira puama, Korean ginseng, damiana leaf and saw palmetto.
Does it Work?: Yes—and it's effective. PDRHealth.com, a leading resource for physicians in the United States, lists muira puama as an effective treatment for erectile dysfunction (ED) and low libido, improving erection quality with regular use. It also contains anxiogenic properties, which increases energy levels quickly without causing any significant side effects.
Korean ginseng was also identified as an effective aid for ED in a study conducted by Sao Paulo University's Urological Division in Sao Paulo, Brazil. Taking Korean ginseng before intercourse improved erection quality, increasing the length of intercourse.
Don't leave out yohimbe bark extract either—it also contains an alkaloid called yohimbine, which helps reduce ED and a condition called orgasmic dysfunction, or an inability to orgasm while being sexually stimulated.
Is it Safe?: Not entirely. Yohimbe bark may cause high blood pressure, insomnia or skin flushing, making it potentially unsafe for people with heart or blood pressure conditions. It also increases a person's risk for panic attacks. There are few side effects associated with the rest of Cobra's ingredients.
Grade: D. Although it isn't as effective as Zyrexin, its ingredients are proven to attack ED at its core, making it easier to maintain an erection without additional physical stimulation. If you're looking for a great alternative to Zyrexin or Actra-RX, consider giving Cobra a try.