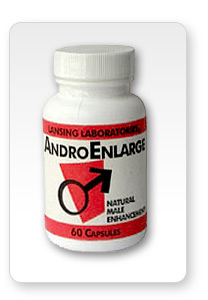 ANDRO ENLARGE - This below par product is typical of many of the male enhancement pills that have been recently flooding the marketplace - it makes ridiculous claims, while offering a sub par formula not adequate to meet its brazen claims. The Lansing, Michigan based company who created and developed Andro Enlarge state in their advertisements "scientific research has discovered a new herbal formula that generates significant increase in penis length." They claim you'll increase the width of your penis 50%. How they hope to achieve such results with this five ingredient formula is a total mystery!
One of the key components of the formula is the hormone androstenedione. "Andro" as it is known became the hottest supplement in the country a few years ago thanks to baseball slugger Mark McGwire's use of it. Lansing Labs claims "andro" produces testosterone and increases sex hormone production. This is simply not true. Two separate double blind placebo studies at Harvard Medical School commissioned by Major League Baseball (a result of the Mark McGwire controversy) convincingly revealed that "andro" actually increases estrogen – the female hormone in men!  This can lead to men developing enlarged and fleshy breast tissue, or as Men's Health Magazine called them in their article on the study "Man Boobs." Clearly not the results you are looking for. However, at only 100mg per dosage the level of "andro" contained in Andro Enlarge doesn't appear to spike estrogen amounts to a level to cause serious concern based on the latest clinical findings.
Testosterone increases can improve the male sex drive. Dr. Jan Davidson of the Stanford University Medical Center said of an increase in testosterone "We concluded that the stimulatory effects of testosterone on sexual activity are rapid, reliable and not due to a placebo effect." However, the alleged surges in testosterone claimed by "andro" supplementation have been proven false in study after study.
Four additional components - tribulus terristris, mucana pruriens, Chinese wolfberry and horse chestnut complete this formula. These herbs do provide an overall health benefit and can help improve male sexual function somewhat modestly, which is a positive. At the end of the day this product will provide no significant increase in erection size based on all the pharmacological data, studies, research and real world feed back. Their ads exaggerate the benefits you can come to expect from the product.
GRADE C-
What are Androenlarge Capsules?
Androenlarge Capsules are a male enhancement supplement that claims to stimulate the pituitary gland, causing the release of hormones responsible for enlarging the penis and testicles, essentially restarting puberty. According to their research, penis length is directly correlated with the release of hormones during puberty, which supposedly proves it is an effective male supplement for gaining inches quickly and permanently. So how many inches can you expect to gain? According to their official website, up to one to three inches. It's not clear how fast—or how safely—it can enhance penis size, however.
Ingredients: The Androenlarge Capsules contain Tribulus Terristris, Horse Chestnut Seed Extract, Mucana Pruriens, MACA (Lepidium Peruvianum Chacon) and Chinese Wolfberry.
Does it Work?: No. Not only are its ingredients pretty ineffective—they're literally as effective as placebos—it also contains a hidden hormone called androstenedione, the hormone that produces testosterone, a vital hormone released during puberty. Strangely enough, studies conducted on androstenedione show it doesn't effect the sexual processes in the testicles and has little effect on muscle-building (it's also a well known pseudo-steroid). But the U.S. Food and Drug Administration (FDA) considers it an unsafe and potentially harmful drug—they banned it from commercial sale in 2004. Not only are the Androenlarge Capsules ineffective, they're also illegal to use.
Is it Safe?: No. Because it contains a steroid-like hormone, regular use may cause acne, testicular atrophy, penis shrinkage, breast enlargement, mood changes (better known as "roid rage") and liver abnormalities. It may also affect cholesterol levels, increasing your risk for atherosclerosis or heart disease.
Grade: C-. The Androenlarge Capsules aren't just unsafe, they're illegal—it's essentially a steroid disguised as a "penis enhancer". Steroids are more likely to shrink your genitals, not increase its size. The Androenlarge Capsules earn a F for its possible health risks and illegality.