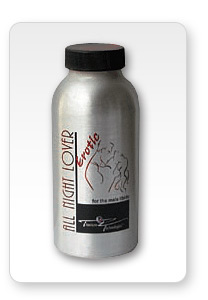 What is All Night Lover?
All Night Lover, also known as "Erotic Herbal", is a natural male enhancement supplement that touts itself as a cure-all for all erectile and impotence problems, including erectile dysfunction (ED). How does it work? By naturally increasing libido, stamina, pleasure and potency with its proprietary blend of herbs and vitamins, including ginseng and yohimbe bark.
It also claims to be better than prescription supplements, such as Viagra or Cialis.
"Erotic Herbal is a safe alternative to prescription treatments that often cause harmful side effects," says All Night Lover's report on EroticHerbal.com. "Don't waste your time with expensive prescription products with artificial and potentially harmful ingredients." And it's true—all of its ingredients are all-natural, not synthetic.
Ingredients: All Night Lover contains tribulus terrestris, vitamin B6, vitamin E, avena sativa, ginseng, yohimbe bark, muira puama, damiana leaf, wood betony, ashwagandha root, androstenedione, zinc and saw palmetto.
Does it Work?: No—and it's actually illegal too. All Night Lover contains a pseudo-steroid called androstenedione, which was banned by the U.S. Food and Drug Administration (FDA) in 2004. This pseudo-steroid does raise the testosterone, which may increase the libido, but also causes a very unpleasant side effect called testicular atrophy, or testicle shrinkage.
Nearly all of its ingredients are popular Indian or Chinese herbs, proven ineffective by numerous studies, including a report filed by Drugs.com in 2009. Many of these ingredients are also associated with an increased risk for heart problems, making it potentially unsafe for people with a pre-existing heart condition, such as heart disease.
Is it Safe?: No. Many of its ingredients, including yohimbe bark and ashwagandha root, can make heart problems worse, raising blood pressure and the heart's basal heart rate. This can increase a person's risk for heart disease, high blood pressure or a heart attack. Androstenedione can cause severe, steroid-related side effects, including testicular atrophy, severe mood swings, liver damage and decreased sperm production, which may lead to sterility.
Grade: D. Erotic Herbal isn't safe—or legal—to take, with very few sexual benefits found in any of its ingredients. If you're looking for an effective male enhancement supplement, there are plenty of ways to obtain it legally without risking your sexual health.